Just like there is Metamask for the Ethereum blockchain, one of the most widely used browser extensions to interact with the Tezos blockchain is Temple Wallet. In this post we tell you how to create an account with this wallet and we explain how to use it.
Check out more:
Listing Some Famous Us-based Companies That Are Utilizing the Blockchain Technology
Here's How 5G Technology Will Influence Digital Marketing
Will BTC face an economic crisis in 2022?
What is Temple Wallet?
Temple Wallet is a free crypto wallet that is used as a browser extension. This extension acts as a bridge between a computer, the web and the blockchain (in this case Tezos). Creating a wallet on the Tezos blockchain is the first step to take if we want to mine or buy NFTs on this network.
Temple Wallet can be used with Chrome , Firefox and Brave as of this writing, although they want to integrate it with other browsers such as Opera.
How to create an account with Temple Wallet?
Go to the TempleWallet website , click on Install Now and select your browser. Today it is only available for Chrome, Firefox and Brave.
Depending on the browser, it will be installed for the user in different ways. We accept the corresponding notices and the extension will appear in the browser at the top right with an icon of a yellow key . A tab will then open to start creating our wallet.
On this screen, it will offer to import an existing wallet or create a new one. If you are reading this tutorial, you most likely want to create a new one, so we click Create a new Wallet . Otherwise, we would use our seed phrase to import an existing wallet.
We set our password, which will be locally. That is, only for when we use our computer and to unlock or access the wallet.
This is the most important part: the seed phrase . The seed phrase or key phrase is a series of words that act as a unique password for when we want to import a wallet. If someone has access to your seed phrase, they have full access to your wallet . It's that easy.
Therefore, it is always recommended to write it down on paper and never on digital media. This is very important . If you want to know more about how to protect your wallet, you can read our Security Guide for your wallet .
Once the seed phrase has been pointed out and saved, it would be done. Now we have our Tezos blockchain with Temple Wallet.
How do I know what my Tezos wallet number is?
Knowing your Tezos temple wallet number is very easy. You simply have to click on the browser extension, which is a yellow key.
Enter your password and you will see that above there is a series of letters that begin with " tz …". This number is your Tezos address, and it is the closest thing to having a bank account number. With the address they can send you cryptocurrencies and NFTs of all kinds. If you need the address, click on it and it will be copied to your computer's clipboard.
How do I use Temple Wallet?
Using Temple Wallet is very simple . When you visit a website that allows and asks you to connect your Tezos wallet such as Hicetnunc or Kalamint, you give them permission to connect with your wallet and it will surely ask you for the password to confirm the operation. You must be careful where we log in with our wallet, since some websites can be malicious and we can lose everything we have. Therefore, it is convenient to have a wallet to experiment with this type of thing.
How can you recover back your Temple Wallet seed phrase if you lost it?
If you still have access to the wallet in the browser, click on your avatar/profile, and go to Settings .
Then click on Reveal Seed Phrase and after entering your password, you will be able to write it down/save it again.
It is very important to have it saved from the beginning because without the seed phrase you lose access to the wallet and there is no way to recover it.
How to use different networks in Tezos temple wallet
By default, the main Tezos network is used, called Tezos Mainnet . However, we can change which network we use by clicking on Tezos Mainnet at the top right.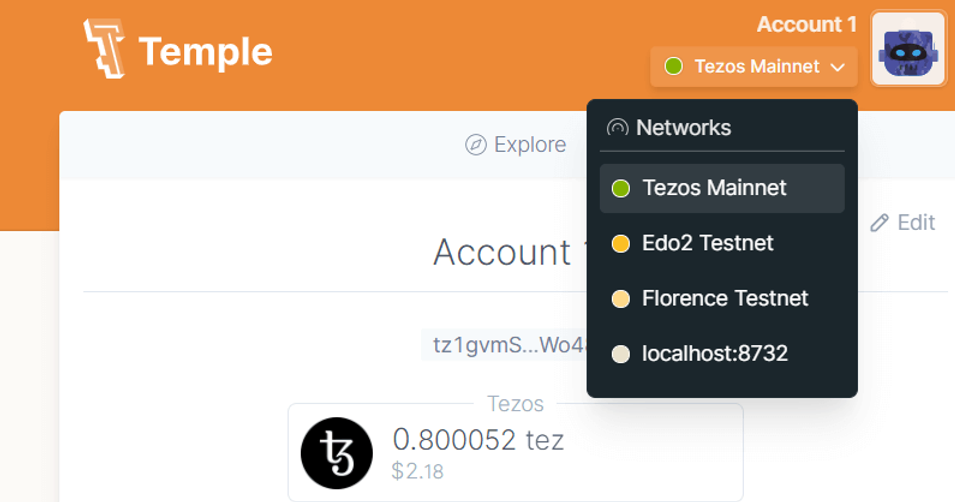 Also, if you want to add a custom network, you will have to go back to Settings (clicking on the avatar) and from there to Networks . By entering different data we can add a new network to connect to.
How to Add custom tokens to your Temple Wallet
Wallets in general give us the option of adding different types of tokens if we enter certain information. In the case of Temple Wallet, it allows us to add FA 1.2 and FA 2 tokens , which are equivalent to an ERC 20 (cryptocurrency) and an ERC 721 (NFT) in Ethereum respectively.
To do so, click on Manage just above the asset search engine and click on add token . Adding the token to display is as easy as adding the token's contract address . In the case of an NFT, we will also have to write the token identification number (token ID).
We are sorry that this post was not useful for you!
Let us improve this post!
Tell us how we can improve this post?
I am a crypto hobbyist, i offer Tips and Reviews on the best blockchain technology, crypto assets, emerging fintech trends, Country flags, banks virtual accounts, and the best Paying Legit Networks.
Check out my Latest Articles in the Following Categories here:
Cryptocurrency Payment System Countries Credit Card Reviews