Plinko Master is an application for Android that allows you to get rewards by simply clicking on your phone screen, playing a game, and watching video advertisements.
If you have come this far looking for questions and answers, such as whether or not Plinko master pays, if it is legit and reliable, or if it is a scam, do not hesitate and take a seat.
Check out more:
Free Bitcoin Cash App Review: great rewards every hour and additional bonuses! (Legit or Scam)
OGTask Review Legit or Scam? THE #1 INFLUENCER NETWORK THAT DOESN'T PAY
BetFury Review Legit or Scam? BEST I-GAMING PLATFORM WITH BTC DIVIDENDS
What is Plinko Master?
Plinko Master is a video game-type app that allows you to obtain rewards through PayPal.
This application is managed by Shape Keeper Ltd, as indicated by Google in search results when you type "Plinko Master". This app has more than 5 million downloads on Google Playstore
Does Plinko Master android game pay or is it a scam?
Plinko Master android game is a scam, do not waste your time playing this game thinking you will get a reward or payment. Plinko Master is the typical app that promises a lot for nothing. And don't think it's the only one, there are other apps like this that are just there to scam you.
Unfortunately, Google Play is seriously infected with junk applications of this type, applications that are made to make the user believe that they are going to get a big reward just by playing and simply clicking on their smartphone screen, in this case $100 PayPal reward which is false and uncertain.
The simple truth is that, when you download this app, after viewing hundreds and plenty of ads, when you think you are close to reaching the $100 minimum payout as required by Plinko Master developers, your rewards will automatically start to decrease to the point where all the money disappear completely, making it impossible to request a reward or Payout, and even if you manage to request it, they will never pay.
In the end, you will realize that you have wasted your time and that you have also helped the creators of Plinko Master make more money into their personal pockets even more thanks to the hundreds of ads you have viewed and clicked. In short, this is the harsh reality of Plinko Master and other thousands of fake rewards applications that you will find on Google Play.
How does Plinko Master work?
As soon as you download the application and open it, you will see the Plinko Master game and everything it offers.
The operation is simple. It consists of touching the screen and the balls will begin to fall from the top of the screen. You will see obstacles, tokens, and coins. When a ball hits a chip or coin, you will receive a reward.
The ball also has a chance of landing in one of the bonus boxes at the bottom. In this case, the prize may be higher.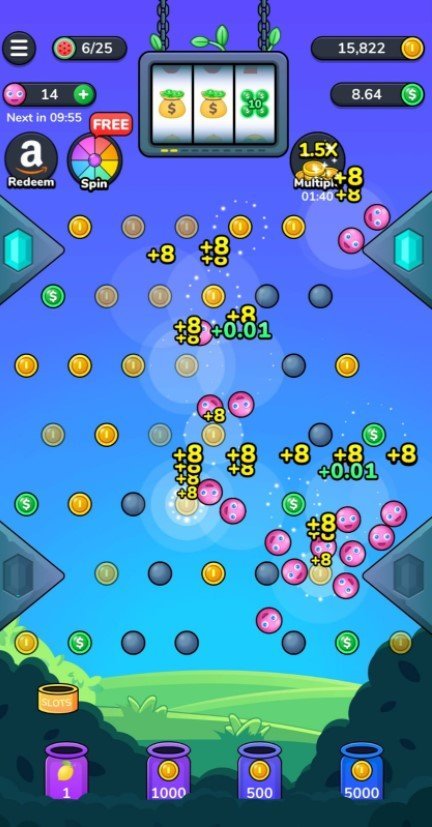 You also have other options to win more, such as a slot machine, which will be activated when the ball falls through the slot ring that moves left and right, among other options you can see at the top of the display, your coins, and accumulated balance. To get more balls you must watch video Ads. This action will give you 30 new balls.
My Plinko Master Personal Opinion and Review
This app is a scam and a complete waste of time! Hopefully one day Google will take action and begin to remove all fraudulent apps that operate under the same scam model as Plinko Master.
If you do not want to see yourself in an unpleasant situation, I advise you that before installing an app to earn money or before registering on any site, be it free or investment, make some research yourself very well, and always follow your instinct before taking any step. If you do, you will avoid wasting time using apps like Plinko Master and surely with more applications that you downloaded.
Users Opinion and Experience online From Google Play
I am not the only one who thinks this way, although in this case, it is not necessary to give it much thought. It is a scam and what you get is what you get.
However, in case you have doubts, the comments and reviews of the app on Google Play speak for themselves.
" SCAM! I had the game for 3 weeks, after the first week the game changes, you do not exceed $ 93.22, in roulette and in 3 in stripes there are no dollars, it is a real despair. I advise you to value this comment if you want to appreciate your time «.
« What a bad game, it is a scam, I have been playing for months watching the videos and it did not exceed € 90.04, there are no green coins anymore and the roulette that they have put new does not come out a penny, the fruits from what I see when you get to 21 You no longer get the other 4 that are missing, it is a shame that they waste your time believing that you are going to earn money with this game, we are the users who generate money for the creators when we watch the videos «.
« IT IS A SCAM. When you get over $ 90/95, no more green coins come out. Regardless of this, when you reach close to 3 million gold coins, they begin to subtract the coins you earn from the total achieved, thus making it impossible or much more difficult to get 4,000,000 coins to win $ 1. A disgraceful app and a huge waste of time. Scammers is little to say «.
We are sorry that this post was not useful for you!
Let us improve this post!
Tell us how we can improve this post?
I am a crypto hobbyist, i offer Tips and Reviews on the best blockchain technology, crypto assets, emerging fintech trends, Country flags, banks virtual accounts, and the best Paying Legit Networks.
Check out my Latest Articles in the Following Categories here:
Cryptocurrency Payment System Countries Credit Card Reviews