This post is about a tutorial on how to get a free Virtual International PayZapp Visa credit card without a need for any personal ID verification and Bank account. This virtual card is a product of HDFC Bank, India's leading private sector bank that offers Online NetBanking Services and Personal Banking Services.
This card is an international debit card. So, international transactions are also possible including shopping from amazon, eBay, aliexpress etc. I have not yet tested the card with international transactions but as its competitors are offering international virtual credit/debit cards, this virtual VISA card from the HDFC Bank named PayZapp Card has to be an international card.
Check out more:
Top 10 FREE Physical or Virtual VISA / Master International Cards For All Countries
How To Create Free Yandex Money International Virtual Mastercard with No Verification and No Bank Account Needed 2020.
You will also get a free zero-balance bank account with this card. There are no transaction charges and no Maintenance Charges. So, you will be able to transfer money online to other bank accounts for free without any transaction charges (once you complete full KYC). The card and the zero balance bank account come from HDFC Bank and this special app/service is called – HDFC PayZapp.
I will show you how to create your account and get a free virtual Visa card. One of the advantages of having a PayZapp Card is that it does not have any kind of yearly maintenance charge, and there are no transaction charges.
How To Get VIRTUAL CARD
Step 1: You will need to Register and create an account using the Payzapp you have installed on your smartphone. I have created a tutorial on how to do this you can check out the article here: How To Create/Register a Free HDFC PayZapp Mobile Account (No Verification and No Bank Account Needed 2021)
Step 2: You will need to add money to your Wallet to get your Virtual Card. You can add a small amount of money into the payzapp e-wallet, in other to create your virtual card and withdraw the money later or use it anywhere you want. I have created a tutorial on how to do this you can check out the article here: How To add Money to your HDFC PayZapp Mobile Account Wallet (No Verification and No Bank Account Needed 2021)
Step 3: After you have created an account and add money into your wallet/account it is time to get your debit card. To get your virtual card, open the payzapp app on your smartphone and click on the menu button that is located at the top left of your screen.
Step 4: Scroll down and click on the "PayZapp Card" option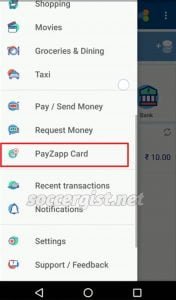 Step 5: You will see that your Virtual card is now available for use. You can use this card anywhere you want, to check the CVV number just click on the virtual card, and the card will flip towards the back and show you the CVV number.
We are sorry that this post was not useful for you!
Let us improve this post!
Tell us how we can improve this post?
I am a crypto hobbyist, i offer Tips and Reviews on the best blockchain technology, crypto assets, emerging fintech trends, Country flags, banks virtual accounts, and the best Paying Legit Networks.
Check out my Latest Articles in the Following Categories here:
Cryptocurrency Payment System Countries Credit Card Reviews